Is there anything better than a teaching tool that kids think is a game? I'm thinking no. How do you think I got hooked on westward expansion? Oregon Trail baby. Our sixth grade social studies teacher would let us play it if we finished our work quickly, I was a total addict. But I digress, on to the review of Ooka Island.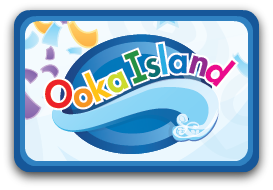 What is it?
Facts: Ooka Island is a downloadable game that teaches children to read. Pre-reading skills, spelling, writing, and reading comprehension are all covered at some point in the game. It is an interactive and reward based literacy program disguised as a game that children can work on independently.
Opinions: I've taught reading to elementary children (have you heard of FCAT? Anywho I taught reading summer programs for students who were failing the 3rd grade reading portion) and let me just say this is WAY more awesome. It is a very good beginning with only a few technical issues that would keep me from saying children could be completely independent. Maybe a really responsible child but not someone who was struggling..or I could just be one of those people who can't release control…nah.
How does it work?
Facts: You download the program to your computer. Once that is complete you/your child can log on and begin the program. It is designed for pre-school through second grade students. The child is taken through a variety of games and activities that respond to his/her choices to customize future play. They start at the beginning to make sure no skills have been overlooked and move on at their own pace.
Opinions: WARNING: It's a freaking huge download. HUGE and it will take forty forevers. It's worth it but you should know the files are huge. I know what the recommended age levels are but I've definitely seen children in public schools who would benefit from this up to possibly fifth grade. Think about the child's reading level not their grade level. The only thing I don't love about it is that it is a computer interface and my son isn't as good with a computer as he is the iPad…but my baby is only 3 (although he knows all of his letters/sounds and has started sounding out words).
Where can I get it?
You can sign up over at Ooka Island. There are several pricing options. For one child you can choose one month for $12.95, six months for $59.95, or one year for $99.95. A family plan allows four children to access the information and track their progress. Prices for this plan are $19.95 for one month, $99.95 for six months, and $129.95 for a full year. (there is also a FREE TRIAL!)
Should I try it?
If you have children in the target range I think you should definitely check it out. If you still aren't sure head over to Ooka Tube to get a better feel for the game. Show the videos to your child and see if they are interested in playing a new "game".  If they are interested choose the 14-day free trial
Did I mention there is a FREE TRIAL, because… there is…a free trial…if you're interested in FREE.
PS
I was given a free subscription to try so I could share my thoughts with you, but they are still MY thoughts
Check out the thoughts of some awesome crewmates to get a better idea of if Ooka Island is for you!